Salmon 1.1.5 (April 25, 2017) – Changelog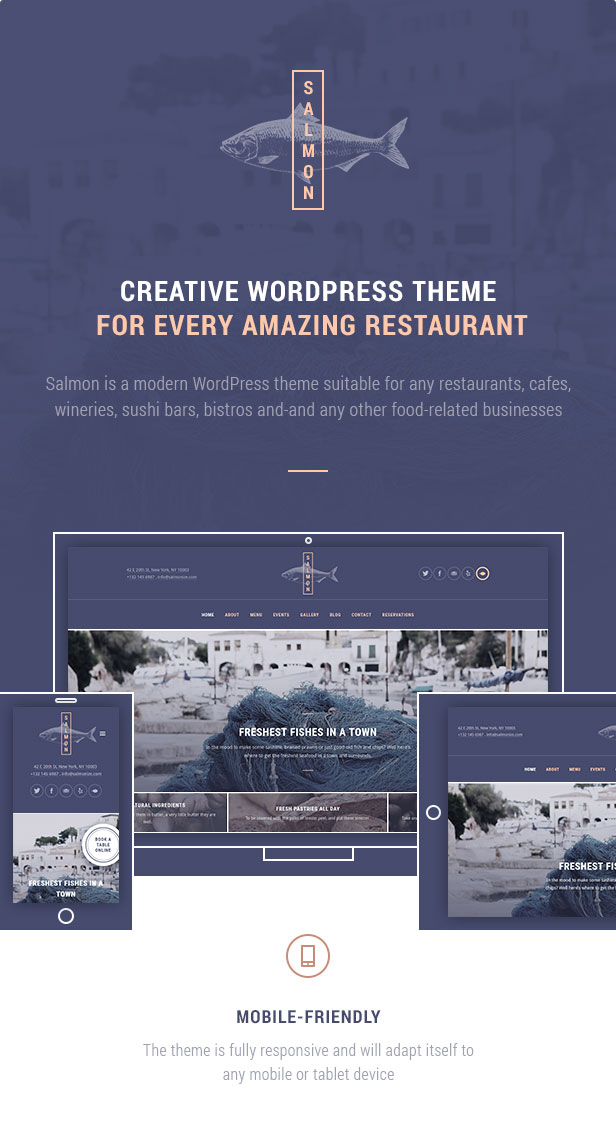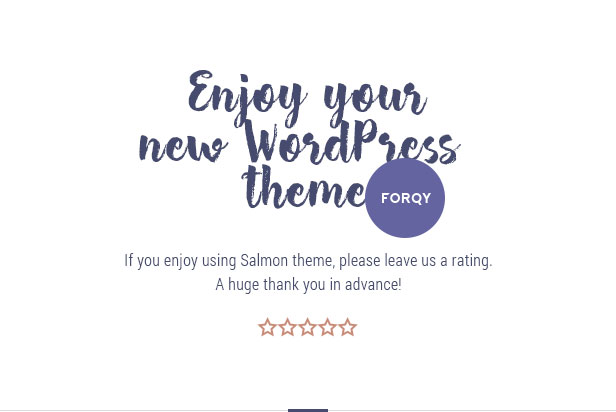 Salmon is a modern WordPress theme suitable for any restaurant, pub, winery, pizzeria, cafe, bar and-and any other food-related business.
The design is fully customizable and highly optimized for mobile, so will adapt itself to any mobile or tablet device. The theme is ready-to-use, no needed coding or design skills. The theme offers all essential restaurant features such as menu management, event promotions, gallery management, blogging, contact form and also online reservation form with backend reservations management.
Everything you need to create and manage a professional restaurant website.
Functions
Live customizing with WordPress Customizer
4 complete websites to one-click import
Easy-to-use admin interface
Reservations management
Shop powered by WooCommerce (optional)
Menu management

Menu hierarchy – American and European style or whatever
Multiple prices for different quantities
Unlimited ingredients
Unlimited tags

Slideshow management
Pages management
Events management
Gallery management
Blogging platform
Online reservation form
Contact form
Custom logo upload
Custom login logo upload
Custom loading logo upload
Custom navigations
Custom widgets
Widgetized homepage
Widgetized sidebars
Widgetized footer
Paginated posts
Touchable slideshow
Custom header background image
Social media buttons
Social share buttons
Call to action badge (optional)
MailChimp newsletter integration (optional)
Instagram feed integration (optional)
Developer friendly
LESS (CSS) Styles & PHP Functions through ready child theme
Free lifetime updates
Features
Fully customizable colors, layouts, fonts, or anything
Created with modern, semantic and clean HTML5, CSS3 and jQuery
Optimized for mobile – fully responsive
Optimized for speed and high performance
Search engine optimized (SEO)
Restaurant oriented structured data for search engines
Collection of 800+ Google fonts
Retina and HiDPI ready
Cross-browser compatible
Translation ready – POT + PO/MO files included
Accessible image lightbox
Browsing menu with lightbox
Usable shortcodes – forms, images, buttons, etc.
Header types (center and left aligned)
Page loading (optional)
Images lazy loading
Secured forms with reCaptcha – noCaptcha
Forms data validation
Google Analytics ready
Right-to-left (RTL) support
Social networks connection – Twitter, Facebook, Google+, Instagram, TripAdvisor, Foursquare, Pinterest, Yelp, YouTube, Zagat, Zomato
Child theme included
Compatible with most popular plugins – WooCommerce, Visual Composer, Page Builder by SiteOrigin, qTranslate X, WP Smush.it, Anti-spam, All In One SEO Pack, WordPress reCaptcha Integration, and more – one-click installation
Need help? We are here for you
Please read our documentation – and then if you will need some help or just talk with us, please let us know via the comments or drop us an email through the contact form.
Changelog

25/04/2017 v.1.1.5
- Improved WooCommerce 3.0.4 compatibility
- Improved WooCommerce product badges when is no price
- Improved restaurant microdata
- Improved datepicker uniqueness
- Improved lightbox gallery
- Improved displaying of the taxonomy description
- Minor changes

---

08/04/2017 v.1.1.4
- Improved WooCommerce 3.0.1 compatibility
- Minor changes

---

01/03/2017 v.1.1.3
- Added new demo sites
- Added post excerpt length option to "Appearance > Customize > Design > Post" 
- Added color options for "About" section to "Appearance > Customize > Design > About" 
- Added "Events Past" page template to display the past events
- Improved styles
- Improved page content formatting
- Minor changes

---

18/02/2017 v.1.1.2
- Improved form select
- Improved posts
- Improved lightbox icons for Firefox
- Added new page template for Blog
- Added new page template for Shop
- Added term images
- Added loading logo uploader on "Appearance > Customize > Site Identity" 
- Minor changes

---

11/02/2017 v.1.1.1
- Added YouTube social icon
- Added single page featured image
- Added single term featured image
- Added new font options
- Fixed menu single page
- Minor changes

---

07/02/2017 v.1.1.0
- Improved performance
- Improved navigation
- Improved menu items
- Improved menu content
- Improved 'Cube' effect of the slideshow
- Improved WordPress galleries
- Improved WooCommerce styles
- Improved WooCommerce product categories
- Added support for FORQY Restaurant 1.1.0 - Update plugin
- Added menu hierarchy support
- Updated scripts
- Minor changes

---

28/11/2016 v.1.0.6
- Improved page loading
- Improved categories widgets
- Minor changes

---

24/11/2016 v.1.0.5
- Improved mobile navigation
- Improved page loading
- Improved coloring of the theme
- Minor changes

---

19/10/2016 v.1.0.4
- Added qTranslateX support for some strings
- Added heading color options
- Minor changes

---

05/10/2016 v.1.0.3
- Added one click demo import
- Added slideshow badge color options
- Updated child theme
- Updated translations
- Minor changes

---

29/09/2016 v.1.0.2
- Added opening to the new window of address in a header
- Fixed displaying of the email field in About section in the customizer
- Updated translations
- Minor changes

---

26/09/2016 v.1.0.1
- Added RTL support
- Added new header type with left aligned logo image
- Removed getimagesize() function in header.php
- Removed getimagesize() function in footer.php
- Minor changes

---

20/09/2016 v.1.0.0
- Initial release